About our company. We've been in business since 2014. Our office is in Huntington WV.  First and foremost we build and design websites.
Four V LLC is a proud family-owned and operated business.  We generally love getting to know each and every one of our clients.
Most of our clients come from West Virginia, Ohio, and Kentucky. Also, we have clients from other states. We can serve clients from anywhere in the USA.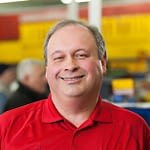 Russell Vance - Founder
Russell is the founder of Four V LLC. Understanding what it takes to own and manage a business. Also, he has also managed retail stores from three different Fortune 500 companies.
Connect with Russell on LinkedIn 
Melinda Vance - Frontend Developer
Melinda is graduated from Marshall University. Melinda is our Front-End Developer. A Front-End Developer works on the visual parts of a website.
Brittany Vance - Programmer and Designer
Brittany Vance graduated from Marshall University in 2011. She is proficient in numerous programming languages as well as graphics and office management software.
Amber Vance - Social Media Specialist and Office Coordinator
Amber Vance is our Social Media Specialist. Amber has excellent knowledge of Facebook, Twitter, Snapchat, Instagram, and other social media best practices. Also, she is our office coordinator.